What Matters: Your election speed read, two weeks out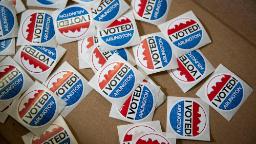 And it's two days from the final presidential debate — that's Thursday, October 22. It's modified with some rule changes and plans to mute each candidate's microphone during initial replies.
Read here
.
Joe Biden is mostly off the campaign trail, preparing for the debate.
President Donald Trump is everywhere — In the past week he's held events in Pennsylvania -> Iowa -> North Carolina -> Florida -> Georgia -> Michigan -> Wisconsin -> Nevada -> Arizona.
That includes double-header rallies on Friday, Saturday and Monday.
He'll be in Pennsylvania on Tuesday, in Erie County, which flipped from supporting Barack Obama to supporting him in 2016. He'll be in North Carolina again on Wednesday.
He'll need both states again if he's going to win 270 electoral votes. (Keep reading for more on that.)
Trump doesn't discuss Covid much at the rallies, but he's consistently pushed the idea it's about over. Or we're rounding the bend.
What he does talk about: Hypothetically soliciting bribes from Exxon. I would say "jokes" here because he seemed to be using a hypothetical. Exxon wasn't laughing. The company immediately said its CEO had no contact like this with Trump.
32 million+ early votes and counting. It's possible that between 20% and 25% of Americans who will vote have already voted. More than 32 million have cast ballots.
McRaven's announcement comes after Trump explained last week why he had retweeted a conspiracy theory that the bin Laden raid was a sham.
What about elected Republicans? We've heard this story so many times. There's a big difference between a retired general, no matter how conservative he is, and elected Republicans, who are accountable to voters.
You can bet that if Trump loses, these folks will speak their minds a lot more freely. The quiet angst of Republican politicians has become something of a cliche in Washington.