What Matters: It's time to talk more seriously about the food supply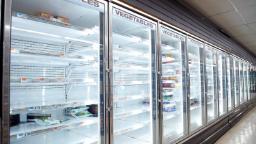 Health professionals — doctors, nurses and everyone down the line — are the rightful and obvious heroes of the pandemic, but if this dark episode has taught us anything about the way we live today, it could be that our society rests on the backs of a lot of people who cannot simply stay home and chill while the coronavirus blows through.
Food workers are front-line workers too — You probably saw the headline recently that one of the largest hog processing plants in the country had ceased production for the foreseeable future. The reason? Employees at the plant, a Smithfield operation, account for about half of the coronavirus cases in South Dakota.
Are shortages coming? Yes, if we panic
— We've already seen runs on
toilet paper and cleaning products
. Will people stockpile bacon in their freezers if they fear a pork shortage? Please don't.
The US is not running out of meat
. It's not that there's no meat. It's that, at the moment, there are gaps in the way we process it and get it to consumers.
Food, food everywhere, but not a bite to eat — Keeping the supply chain going while also keeping farmworkers and meat cutters, along with packers and truck drivers and warehouse workers and grocery stockers and checkout clerks, healthy is one priority.
"It is a cascading series of events here that is disrupting the entire food chain," said Tom Vilsack, the former Iowa governor who served as secretary of agriculture during the Obama administration, in an interview with CNN on Monday. "You start ending school lunch programs, universities shut down, food service shuts down, tourism and hotels have low occupancy and at the end of the day you have a tremendous amount of the overall supply of food having to be redirected."
He said the government will need to spend money to buy food from growers and give it to food banks.
Farmworkers are afraid — CNN's Catherine Shoichet wrote a must-read piece over the weekend about farm workers, whose unions have raised the alarm about safety conditions for the workers who pick our produce.
It's not just the US — The UN warned this month that the response to the outbreak threatens the global food supply.
Food uncertainty vs. food insecurity
In my house, we are trying very hard to not go to the grocery store. But it's hard.
We joined a CSA (community supported agriculture) group that delivers local produce. And we've gotten some shipments from a local wholesaler that usually supplies restaurants and is now doing curbside pickups around the Washington, DC, area.
Which is why there's so much talk about re-opening the US economy.
The experts will save Trump, if he'll let them
Trump spent months — years! — publicly humiliating Jerome Powell, the former investment banker Trump appointed as chairman of the Federal Reserve in 2017. Presidents normally try to keep their hands off Fed decisions on interest rates, but Trump felt free to hammer away at Powell over a 2018 decision to raise interest rates, specifically to give the economy a cushion in case of disaster.
East Coast vs. West Coast