IBM withdraws its full-year 2020 financial guidance because of coronavirus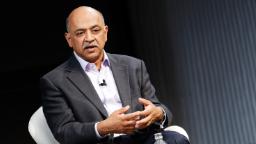 The company recorded total cloud revenue of $5.4 billion, up 19% from the prior year, according to
IBM's
(IBM)
Monday earnings release
for the three months ending in March. The segment's growth rate is only down slightly from the 21% increase it gained in the previous quarter.
Overall, the company's financial results for the three months ending in March were largely in line with Wall Street analysts' expectations. IBM reported quarterly revenue of $17.6 billion, down 3.4% from the prior year, and earnings per share of $1.84, compared to analysts' projections of $1.80 EPS. The company's stock fell around 3.8% in after-hours trading.
"IBM remains focused on helping our clients adapt to the immediate challenges of the COVID-19 pandemic, while we continue to enable them to shift their mission-critical workloads to hybrid cloud and expand their use of AI to help transform their operations," CEO Arvind Krishna said in a statement.
"The company will reassess this position based on the clarity of the macroeconomic recovery at the end of the second quarter," IBM said in its release.
"I believe that what we are going through today, with the shift to remote work, automation … will accelerate our client's shift to hybrid cloud," Krishna said on a call with Wall Street analysts Monday. "This gives me immense confidence in our future."
CFO James Kavanaugh said on the call that in late February, IBM began to see a "notable change" in its clients' priorities, particularly in its enterprise software business and in buying from clients in hard-hit industries such as retail and travel.
"There was effectively a pause as clients understandably dealt with their most pressing needs," Kavanaugh said.
However, Kavanaugh stressed that IBM sees opportunities as clients consider more long-term shifts to remote working. He also said the company has ample liquidity and cash flow to continue investing in the business despite the disruption.
Executives on the call also detailed more immediate actions the company is taking to handle the pandemic, including managing costs, leveraging AI and blockchain capabilities in its supply chain and implementing safety provisions to maintain manufacturing capacity adequate to meet clients' needs.
"Our recurring revenue stream, continued gross profit margin expansion and strong balance sheet and liquidity position remain stabilizing elements in an unprecedented business climate," James Kavanaugh said in a statement.