Fact Checking the Trump campaign's deceptive new anti-Biden ad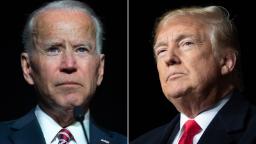 The ad suggests that a former governor of Washington is a Chinese official. It takes Biden remarks grossly out of context to twist their meaning. It assails Biden for being friendly to China while omitting Trump's own praise of China's president and China's response to the coronavirus. It makes a claim about Biden's son for which there is no evidence. And it asserts that Biden had previously opposed Trump's travel restrictions on China; while Biden's initial remarks were ambiguous, he never took a firm position on the restrictions until he announced his support of them last week.
Here is a rundown of the facts.
One clip in the ad shows Biden on stage with the former governor of Washington state, Gary Locke, at a 2013 event in Beijing. The image is quickly spliced in between others of Biden with Chinese officials, and it does nothing to make clear that Locke is an American.
Facts First: Locke, a third-generation Chinese American, was born in Seattle. He served as both US ambassador to China and Commerce Secretary under President Barack Obama.
The Trump campaign's communications director, Tim Murtaugh, justified the inclusion of the Locke image, telling CNN "it's immaterial who else is in the shot with Biden" given that the image is from a China visit in which Biden's son Hunter had joined him and met with Chinese business partners. (Locke was US ambassador in Beijing at the time of Biden's trip.)
Biden campaign spokesman Andrew Bates said the Trump campaign's "repugnant depiction of a great American, who Joe Biden is honored to have the support of, speaks to exactly why the Vice President is determined to win this battle for the soul of our nation."
Praise for China
The ad tries to paint Biden as unduly supportive of China, saying, "During America's crisis, Biden protected China's feelings." The ad shows clips of Biden at functions with Chinese officials, including one of Biden clinking glasses with Chinese President Xi Jinping, and plays clips in which Biden says Chinese people are "not bad folks" and that it's in the self-interest of the US for China to prosper.
Biden's position on Trump's travel restrictions on China
The ad also attempts to portray Biden as a staunch opponent of Trump's coronavirus-related travel restrictions on China.
The ad features an image that reads "Biden Opposed China Coronavirus Travel Restrictions That Saved Lives" It then shows Biden saying the words "hysterical xenophobia."
Given the timing of the Biden remarks about "xenophobia" and "fear mongering," it's not unreasonable for the Trump campaign to infer that Biden was claiming that the travel restrictions were an example of xenophobia and fear mongering. But Biden never explicitly did so, and Biden's campaign says the former vice president had been making a general statement about Trump's record, not an accusation about the restrictions in particular.
A Biden quote about travel restrictions
While alleging that Biden opposed the travel restrictions on China, the ad shows Biden saying the words, "Banning all travel will not stop it."
Another out-of-context clip
The ad suggests that Biden had flip-flopped on the travel restrictions. It shows Biden saying, "I complimented him on — on dealing with China."
Yet another out-of-context clip
The ad ends with Biden saying, "I'm not going nuts."
Hunter Biden's relationship with China
The ad implies that Biden's family has a financial interest in China prospering, citing his son Hunter Biden's work in the country. It features an audio clip in which a man says Hunter Biden "inked a billion-dollar deal with a subsidiary of the Bank of China," and an image of a headline saying that "Joe Biden met with Hunter's Chinese partners."
"BHR was capitalized with 30 million renminbi (RMB), or approximately $4.2 million USD at today's currency exchange rates," the statement said. "To date, Hunter has not received any compensation for being on BHR's board of directors. He has not received any return on his investment; there have been no distributions to BHR shareholders since Hunter obtained his equity interest.