Fact check: Trump repeats falsehood that 'nobody' warned of ventilator shortages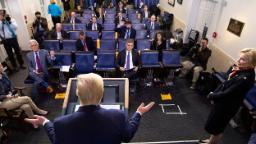 Trump again said that "nobody" could have foreseen a pandemic crisis leading to a shortage of ventilators, for which there were numerous warnings. He predicted that the virus would no longer be a concern after about a month, a timeline at odds with assessments of experts. And he implied
some states are basically fine
when it comes to the coronavirus.
Trump said
, "After a month or so, I think once this passes, we're not going to have to be, hopefully, worried too much about the virus."
Facts First: Trump's suggestion that the virus will "pass" in about a month is at odds with numerous expert assessments and his own recent statements.
The model projects the number of deaths dropping to zero in mid-July, three and a half months from today. (The model offers a range of estimates for each date.)
And experts say there might well be a second wave of the virus to worry about even after the current crisis ends. Dr. Anthony Fauci, director of the National Institute of Allergy and Infectious Diseases, said Monday that he would expect a second wave in the fall, "because of the degree of transmissibility."
Ventilator shortages
Trump on Wednesday repeated the debunked claim that "nobody" predicted the shortages of ventilators that have become a major part of the coronavirus crisis in the US.
He made the comment while touting the efforts by US companies like Ford and General Motors to produce ventilators on an emergency basis.
"We're building thousands of ventilators right now," Trump said at a White House press briefing. "It takes a period of time to build them, and again nobody could have known a thing like this could happen."
Facts First: Trump is wrong. Medical experts and public health officials have said for years that the US would face a shortage of ventilators if there were ever a pandemic like Covid-19. Even during Trump's presidency, there had been warnings that hospitals would run out of lifesaving equipment and resources would be strained because the US wasn't prepared for a pandemic.
The number of coronavirus cases in each state
Asked why he didn't issue a universal stay-at-home order for the entirety of the country, Trump implied that some states are basically fine when it comes to the coronavirus.
"There are some states that don't have much of a problem," he said. "There are some, well, they don't have the problem. They don't have thousands of people that are positive or thousands of people that even think they might have it, or hundreds of people in some cases."