Fact check: Trump again touts unproven drugs for coronavirus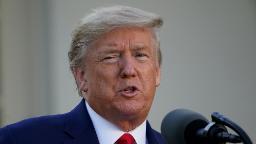 Trump inaccurately characterized previous statements he has made downplaying the severity of the crisis. He again talked up medications that have not been clinically proven safe or effective for use against the coronavirus. Immediately after boasting about having superior knowledge of South Korea, he misstated the population of Seoul. And in touting progress on coronavirus testing, he omitted important context.
Here's a fact check of his statements from the briefing.
Trump touted the number of coronavirus tests the US has conducted, saying "over 1 million Americans have now been tested, more than any other country by far." Later in the briefing, when asked when the US per capita number will be "on par" with the per capita number in other countries, Trump said, "It's very much on par." (He later added, "I didn't talk about per capita.")
Anti-malaria drugs for coronavirus
Trump and members of his administration on Monday again mentioned two drugs that could potentially help combat the coronavirus.
Over the weekend, large drugmakers announced that they were providing millions of doses of the drugs to the federal government, and the Food and Drug Administration issued emergency approval for the Trump administration's plan to send the drugs to hospitals across the country.
Facts First: While public health officials are hopeful that the drugs will work against coronavirus, Trump's tone hasn't matched the science, which is extremely limited and anecdotal at this early stage.
Trump's over-the-top optimism has been tamped down by the medical professionals on the White House task force handling the pandemic. Dr. Anthony Fauci, the nation's top public health official on infectious diseases, said the proof is only anecdotal. Health and Human Services Secretary Alex Azar was similarly careful with his language on Monday, and referred to the drugs as "potential Covid-19 treatments."
Trump's past comments about the virus
Trump responded, "If you look at those individual statements, they're all true: stay calm, it will go away. You know it is going away."
And Trump was misleading when he said on March 10 that the virus "will go away." While the virus may eventually be eliminated in the United States, Trump did not mention that thousands of Americans could die before this happened, nor that the country could have to implement drastic measures to try to slow its spread.
Experts also warn that there could be a second wave of the virus in the US even after the immediate crisis is over.
Seoul's population
Talking about why South Korea has conducted more coronavirus tests per capita than the US, Trump noted that South Korea is more densely populated. He said, "I know South Korea better than anybody. It's a very tight. Do you know how many people are in Seoul? Do you know how big the city of Seoul is? Thirty-eight million people. That's bigger than anything we have."