Campaign advertising adapts to new coronavirus reality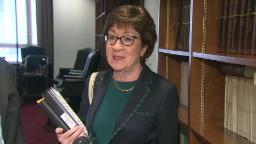 So her campaign turned to Larry McCarthy, a Republican master of the attack ad. Within four days last week, McCarthy and his colleagues wrote, shot, edited and sent to the press a
30-second spot
. In it, doctors, firemen, grocers, pharmacists and police are shown working during the coronavirus pandemic. With a few seconds remaining, Collins appears on screen and thanks them.
In times of crisis, even those deft in the dark art of negative advertising sometimes show their softer side. Campaigns try to make their candidates look compassionate and in command, while figuring out how to attack their opponents without looking exploitative or petty.
Some, like Collins, have pulled traditional spots for those that resemble public service announcements, complete with the federal government's coronavirus website address flashing on screen. Other campaigns and outside groups have continued to go on the attack, gone silent or haven't yet figured out how to advertise amid the pandemic.
Producing paid communications in the age of coronavirus presents both opportunities and challenges.
"The people who argue that you should be up (on the air) will say, 'Well, TV and digital eyeballs are way up because people are trapped at home and very worried,'" McCarthy said. "And the con side will say, 'Well, what are you going to say?'"
McCarthy believes the twin health care and economic catastrophes caused by the worsening pandemic could shape the 2020 elections even more than 9/11 influenced the 2002 and 2004 elections. "We're in an ad environment that's never been seen in America before," he said.
How campaigns are messaging around the crisis
"Listening to him boast about how great of a job he's done, how he would he give himself a 10, how people don't realize how smart he is about this kind of stuff, while the numbers every single hour skyrocket — in terms of the number of cases in this country — is completely fair game," Priorities' executive director Patrick McHugh told CNN. "It's important to hold him to account for his failures."
Down-ballot candidates have also not shied away from using coronavirus — and the government response to it — in their advertising.
"While Amy McGrath lies, Mitch McConnell leads," the narrator says, before the web address for the government's coronavirus response website flashes on screen.
Challengers, and the outside groups backing them, can also use ads during a national crisis to criticize those in power.
The same day that Collins released her ad to the press, the liberal group Majority Forward, which has ties to Senate Democratic leadership, launched a six-figure ad urging voters to thank her Democratic rival, state House speaker Sara Gideon. The group charged that while "Washington was foot-dragging," Gideon struck a deal for millions of dollars in relief to Mainers. That night, however, the Senate passed its $2 trillion response to the crisis.
An industry in flux
Just as coronavirus has changed life on the campaign trail, it's affecting the logistics of how campaigns tell their stories.
The Collins ad, for example, was a "grab and go" shoot with a "skeleton crew," McCarthy said. Last Monday, they filmed Collins at the National Republican Senatorial Campaign's headquarters in Washington and sent two people — one toting a "small low-end" camera and a staffer — around Maine to shoot the workers on the frontlines of the pandemic. They edited the spot and shipped it to TV stations the next day.
Mark Putnam, a veteran Democratic ad maker, told CNN that the latest McGrath ad was shot on a home video camera by a staffer who kept six feet away from the Senate candidate and her family.
But besides the McGrath ad, video shoots "have pretty much shut down," he said.
"We're hopeful that we'll be doing shoots again sometime soon," Putnam said. "If not, we'll figure out ways to talk to voters at the appropriate time."
For now, though, those creating ads have not been spared the economic downturn.
"It's not just difficult for campaigns, it's also devastating for the freelancers in the video industry," Putnam added. "Camera operators, grips, electricians, gaffers, sound engineers, makeup artists, etc., all make their livings shoot to shoot. Their work has ground to a halt."