Blue cities and their red states are dividing over coronavirus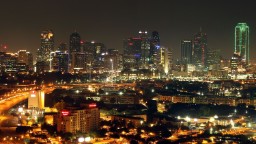 "As we are a regional health care and shopping destination, we have people coming through from surrounding counties that are not [imposing] a stay at home order," she said. "When they come here, you don't know who you are passing in the Kroger or the Walmart. … I think a statewide stay-at-home order is very necessary."
While some Republican governors elsewhere have imposed strict uniform measures, the clash is dividing these states along familiar lines. In almost every state now, including pillars of the Republican coalition such as Texas and Georgia, Democrats have established a dominant position in the largest metropolitan areas. Simultaneously, both in the statewide contests and legislative elections, Republicans have grown increasingly reliant on support from outer suburbs, as well as small town and rural communities.
As the two parties' geographic bases of support have separated so profoundly, conflicts have grown more common in states where the big cities now tilt toward Democrats but the Republican dominance in small towns and rural communities (combined with continued competitiveness in suburban areas) still gives them the overall edge. The coronavirus is now pushing at that jagged divide, especially because it is now concentrated primarily in the largest population centers.
"It's just another manifestation of this very terrific polarization, the metros versus the nonmetro areas," says Richard Murray, a University of Houston political scientist. "Underlying it is the enormous demographic and economic divisions" between them.
Rural areas are less worried
Across many states with Republican governors, these diverging perspectives have contributed to sharp splits between the states' policies and those adopted by the largest population centers.
In recent days, cities including Miami, Birmingham, Nashville, Atlanta, Jackson (Mississippi), Houston, Dallas, Austin, St. Louis, Phoenix and Tucson have adopted complete stay-at-home orders or other tight restrictions on movement and economic activity. But in each case, their state governments — Florida, Alabama, Tennessee, Georgia, Mississippi, Texas, Missouri and Arizona — have resisted comparable statewide limits.
That puts these Republican governors in contrast not only with the many Democratic governors who have issued sweeping statewide restrictions, but the few GOP governors — including in Idaho, Indiana, Maryland, Ohio and West Virginia — who have done so as well.
As the coronavirus caseload rises in states across the country, the lack of statewide action is drawing more alarms from mayors and other municipal leaders, including some elected Republicans, in the red states' biggest metropolitan areas.
Last week, for instance, the mayors of Dallas, Fort Worth and Arlington (the latter two Republicans), joined by the leaders of several local hospital systems, wrote Abbott to urge him to impose statewide restrictions. "[We] believe a statewide approach to limiting non-essential business or commerce — rather than allowing a patchwork of regulations in neighboring cities and counties — is imperative to slowing the spread of COVID-19, which does not stop at county lines or city limits," they wrote.
A patchwork of rules
Generally, the red state mayors have said they understand that rural parts of their state may not require exactly the same restrictions as larger population centers. In Mississippi, Tannehill, for instance, says very small communities without their own grocery stores might need to allow some restaurants to stay open to serve a few small groups at a time.
But Suarez, one of the few Republican mayors in the nation's largest cities, said he still preferred that DeSantis, a fellow Republican, issue a statewide stay-at-home rule because that would make it easier for him to coordinate policies with his own county of Miami-Dade and neighboring South Florida counties such as Broward. "Obviously a statewide standard would make it easier because there doesn't have to be any debate or issue," he said this weekend. "I feel like I've been pulling the county to come along and so that's been the frustration for me."
Jenkins, the Dallas County executive, and a Democrat, likewise said statewide action would provide more assurance that all of his neighboring counties in North Texas follow the same approach. "It requires hours of my day to be spent lobbying the various jurisdictions that have now enacted a Dallas County safer at home model," he says.
"All of my compatriots in every other county are Republicans, who are elected largely in the Republican primary by who can get to the right and hug Trump more than the other guy," Jenkins says. As a result, he says, if Trump calls for reopening, "it puts tremendous pressure on them that they will be harming their constituents, that it's a hoax, it's not that serious, that they need to put the desire of the President over the strong guidance of the medical community. So it's absolutely harmful."
Erin Zwiener, a Texas Democratic state representative, represents fast-growing suburbs south of Austin. She says that even apart from the President's comments, the governor's refusal to act makes it more difficult to overcome resistance to stay-at-home orders from powerful local business interests.
"It means that the local leaders have a harder time building the argument," she said. "If the governor doesn't think it's important enough to act, why does the county have to act?" The result has been "just a patchwork" of different rules even "where you have these communities going right into each other. The lines are pretty arbitrary and the virus doesn't respect them."
Reversing an argument
Ironically, stressing local flexibility is the opposite of the argument that GOP governors and legislatures have made over the past decade as they have passed an escalating series of laws to preempt or overturn liberal municipal ordinances on an array of subjects.
Richard Briffault, a professor at Columbia University Law School who studies state preemption efforts, says he "nearly fell out of his chair" when he heard Abbott call for local control in responding to the coronavirus because Texas has been among the most aggressive Republican-leaning states in preempting laws from Democratic-leaning cities over the past decade.
In those red states, Republican legislators have typically argued for invalidating local ordinances on the grounds that "there needs to be uniform statewide rules," Briffault says. "That seems inconsistent with the [current] position that if you think it's OK for your county you go ahead, but we are not going to deal with the rest of the state. It is certainly the opposite argument from the one they are normally making."
The "preponderance of … preemptive actions and proposals have been advanced by Republican-dominated state governments, embrace conservative economic and social causes, and respond to — and are designed to block — relatively progressive regulatory actions adopted by activist cities and counties," Briffault wrote in his law review article.
The current struggle over responding to the coronavirus, in one respect, inverts this pattern of conflict: In this case, it's the blue cities and counties pleading for a statewide standard and the red governors touting regional variation. But in the larger sense, the pointed collision over enforcing social distancing extends the underlying dynamic now driving politics in so many GOP-leaning states: an intensifying struggle for control of each state's direction between major metropolitan areas that are growing more Democratic and a tenuous Republican majority that revolves around the outer suburbs and small towns beyond them.